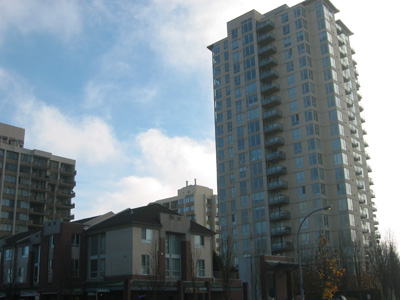 City Club on the Park
Seniorhome joined the Developer mid-way through construction of this 160-unit mixed use development.  This project combined wood-framed residential townhouses built over street-front strata-titled commercial bays, with a 140 unit high-rise condominium tower, in a PPP that provided cross-subsidization to the capital costs of 10 non-market accessible units for wheel-chair bound independent adults.  Pat Frewer led the organization of the Sales Team and the project's lenders, through a difficult process of staged occupancies and possession, under the duress of cost overruns and builders' liens.  Pre-completion sales were successfully closed and the condominium strata corporation was commissioned as an independent governing body, before a receivership order placed the project in the lenders' control and terminated City Club's involvement.
We managed or coordinated:
Resolution of cost overruns, builders' liens, work stoppage, and lender and mortgage insurer legal actions;
Closing of 88 pre-sales, coordination of occupancies and deficiency rectification, and arranging sub-trade and general contractor cooperation;
Resolution of internal conflict between equity partners and construction GC.